Fenner Torque Drive PLUS 3 (TDP3)
HTD Synchronous Torque Drive PLUS 3 Belt Relative Power 150%
The state-of-the-art Fenner® Torque Drive PLUS 3 (TDP3) works with standard HTD pulleys to provide the ultimate combination of power capacity, low noise and high accuracy in a belt drive. 
Manufactured using the latest materials and production technology, Fenner® Torque Drive PLUS 3 continues to push the boundaries of belt engineering.
Benefits
The highest power rating for rubber/glassfibre belts
Enhanced compounding and glassfibre cord excel in highly dynamic applications
Minimum backlash for precise positioning
Ultra compact and cost effective drives
Polyamide facing layer reduces noise and belt tooth wear
Runs optimally on standard HTD pulleys
Fully approved by all international standards
PAH category 2 according to 2014 AfPSS:01 PAK
ISO 13050 (International Standards Organisation)
Anti-static as standard to ISO 9563 (1990)
Ambient operating temperature -25°C to +100°C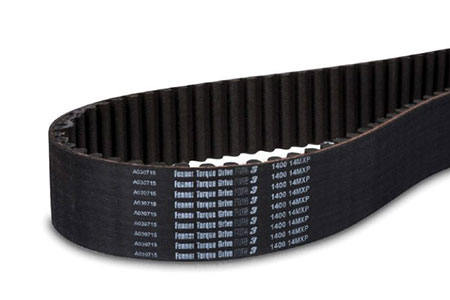 Request more info on Fenner products:
Contact
Get in Touch
For all general enquiries use the Enquire Online form - we'll connect you with the best partner supplier for your query. Alternatively, look up your local supplier.
Got a Technical Question?
For enquiries of a technical nature please complete the form below. We will redirect your query through to a technical specialist who will be happy to help.
Share Your Thoughts?
In order to deliver the best quality products and supply, we encourage customers to submit feedback on their experiences so we can resolve any issues and concerns.