Synchronous Pulleys
Synchronous Pulleys Relative Power 100%
Fenner® synchronous pulleys are manufactured from high grade iron (GG25), tolerate shock loading and achieve rim speeds of up to 40m/s.
Benefits
Available in both classical Timing and HTD profiles
Statically balanced to exceed grade G 6.3 (ISO 1940)
Rim speeds up to a maximum of 40m/s
Blackened to reduce corrosion, acts as an ideal primer and removes the need for cleaning coating agents prior to installation
Precision machined grooves to protect and maximise belt life whilst reducing noise
Taper Lock® mounting, for quick and simple installation
Special designs and sizes available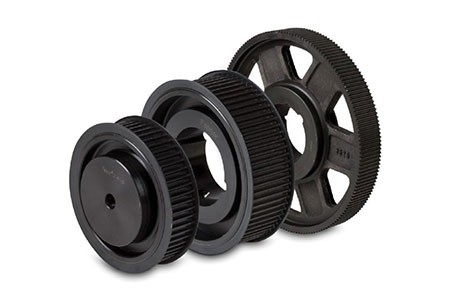 Request more info on Fenner products:
Contact
Get in Touch
For all general enquiries use the Enquire Online form - we'll connect you with the best partner supplier for your query. Alternatively, look up your local supplier.
Got a Technical Question?
For enquiries of a technical nature please complete the form below. We will redirect your query through to a technical specialist who will be happy to help.
Share Your Thoughts?
In order to deliver the best quality products and supply, we encourage customers to submit feedback on their experiences so we can resolve any issues and concerns.