Concord PLUS
Fenner® Wedge Belts combined with a Neoprene/Fabric Band to form a Single Belt
The advantages of Fenner wedge belts are combined with a neoprene/fabric band to form a single belt. Ideal for applications where pulsating or shock loads cause instability in matched sets of wedge or V belts, Fenner Concord PLUS banded belts can provide the ideal solution by providing sufficient lateral rigidity to eliminate such problems.
Benefits
Eliminates belt whip, belt twist and belt turnover
Ideal for drives with pulsating loads
Heat and conditionally oil resistant
Supplied to suit either Fenner ISO standard Taper Lock® pulleys or RMA standard pulleys
Fully approved by all international standards BS 3790 (British Standard)
Can be ordered as Static conductive in accordance with ISO 1813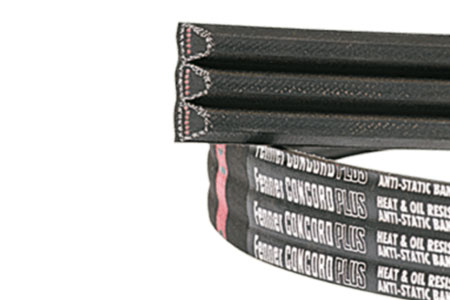 Request more info on Fenner products:
Contact
Get in Touch
For all general enquiries use the Enquire Online form - we'll connect you with the best partner supplier for your query. Alternatively, look up your local supplier.
Got a Technical Question?
For enquiries of a technical nature please complete the form below. We will redirect your query through to a technical specialist who will be happy to help.
Share Your Thoughts?
In order to deliver the best quality products and supply, we encourage customers to submit feedback on their experiences so we can resolve any issues and concerns.