PolyDrive PLUS
High Speed, Ribbed Belts
Fenner® PolyDrive PLUS ribbed belts are an ideal solution for compact drives in household appliances and heavy machinery. The ribbed belts enable economic solutions even under difficult drive conditions, such as large transmission ratios, high belt speeds, small pulley diameters and back idler pulleys.
Benefits
High belt speeds up to 60m/s (belt speeds above 40m/s require special pulley materials)
Designed for high transmission ratios
High power output
Low vibration, efficient belt
Long service life
Fully approved by all international standards Geometry of each section complies to ISO 9982 Static conductive to ISO 1813
-30°C to +80°C temprature range
Suitable for reverse flexing and back idlers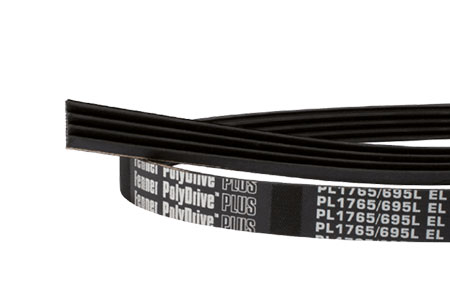 Request more info on Fenner products:
Contact
Get in Touch
For all general enquiries use the Enquire Online form - we'll connect you with the best partner supplier for your query. Alternatively, look up your local supplier.
Got a Technical Question?
For enquiries of a technical nature please complete the form below. We will redirect your query through to a technical specialist who will be happy to help.
Share Your Thoughts?
In order to deliver the best quality products and supply, we encourage customers to submit feedback on their experiences so we can resolve any issues and concerns.