Classic V
Light Duty, Wrapped V-belt Relative Power 75%
Ideal for high ratio or small pulley drives, the Fenner® Classic V belt has a specially treated jacket to give superior anti-static, heat and oil resistant properties which exceeds the new industry anti-ignition standards.
Benefits
Accuracy and stability of length
One-shot tensioning for fit-and-forget reliability
Extended temperature range -40°C to +70°C
PB® (Precision Build) technology, eliminating the need for matching
Fully approved by all international standards

BS 3790 (British Standard)
ISO 4184 (International Standards Organisation)
DIN 7753 (German Institute for Standardization)
Static conductive in accordance with ISO 1813
Conforms to American Petroleum Institute specifications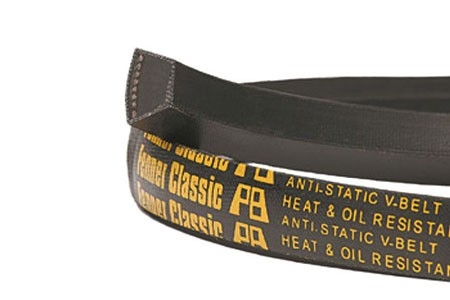 Contact
Get in Touch
For all general enquiries use the Enquire Online form - we'll connect you with the best partner supplier for your query. Alternatively, look up your local supplier.
Got a Technical Question?
For enquiries of a technical nature please complete the form below. We will redirect your query through to a technical specialist who will be happy to help.
Share Your Thoughts?
In order to deliver the best quality products and supply, we encourage customers to submit feedback on their experiences so we can resolve any issues and concerns.