Fenner QD:Flow
Fenner QD Flow Variable Torque Inverter
The Fenner® QD:Flow sets a new standard for dedicated fan and pump control whilst retaining the ease of use you come to expect from Fenner inverters. The Fenner QD:Flow has an innovative design, combined with robust performance to provide powerful flow control and reliability in a compact drive.
Benefits
14 basic parameters, available with IP20, IP55 and IP66 enclosures
Built in energy optimisation and energy monitoring
Built in pump cascade control
Muliple fan operation
Resonance avoidance
Internal RFI filter
Belt brake detection
Fire-mode
BACnet and Modbus RTU as standard
Maintenance interval timer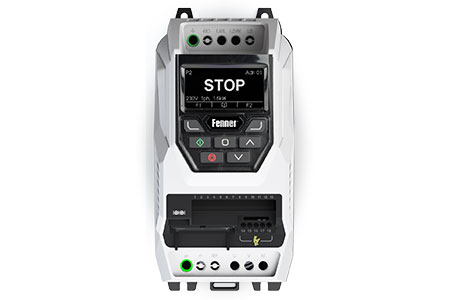 Introducing the Fenner QD Inverter Range
Request more info on Fenner products:
Contact
Get in Touch
For all general enquiries use the Enquire Online form - we'll connect you with the best partner supplier for your query. Alternatively, look up your local supplier.
Got a Technical Question?
For enquiries of a technical nature please complete the form below. We will redirect your query through to a technical specialist who will be happy to help.
Share Your Thoughts?
In order to deliver the best quality products and supply, we encourage customers to submit feedback on their experiences so we can resolve any issues and concerns.