Fenner PLUS Lubrication Free Chain
British Standard (BS) and American (ANSI) Power Transmission Link Chain
Fenner® PLUS Lubrication Free roller chain utilises sintered bush chain technology which negates the need to pre-lubricate the chain for longer storage or running. It is an ideal solution for situations where lubrication is difficult or contamination and fire are serious problems.
Benefits
Built-in lubrication, the ideal solution for applications that are difficult to reach or contamination is an issue
Sintered bushes impregnated with oil operate at up to 2.5m/sec, more than twice that of composite bush chains
Enhanced performance in hostile environments
Solid rollers manufactured to achieve extremely high surface hardness ensuring high wear resistance
Shot peened plates for increased fatigue resistance and extended chain life
All Fenner® PLUS chain plates are progressively punched to give excellent accuracy of both pin diameter and pitch
Case hardened bearing pins for wear and elongation resistance
EPX Easy Pin extraction feature for quick and simple installation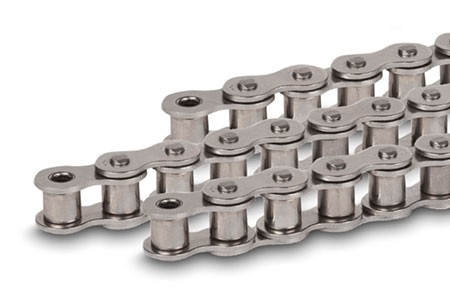 Contact
Get in Touch
For all general enquiries use the Enquire Online form - we'll connect you with the best partner supplier for your query. Alternatively, look up your local supplier.
Got a Technical Question?
For enquiries of a technical nature please complete the form below. We will redirect your query through to a technical specialist who will be happy to help.
Share Your Thoughts?
In order to deliver the best quality products and supply, we encourage customers to submit feedback on their experiences so we can resolve any issues and concerns.