Fenner PLUS Chain
British Standard (BS) and American (ANSI) Power Transmission Link Chain
Fenner® PLUS chain builds on the cumulative engineering experience of the existing Fenner product range but incorporating benefits of several performance enhancing features to create the optimum combination of tensile strength, wear resistance and fatigue life.
Benefits
Enhanced performance in hostile environments
Solid rollers manufactured to achieve extremely high surface hardness ensuring high wear resistance
Bail drifted side plate holes improve finish and combat fatigue failure
Shot peened plates for increased fatigue resistance and extended chain life
All Fenner PLUS chain plates are progressively punched to give excellent accuracy of both hole diameter and pitch
Operates successfully with irregular lubrication
Special wax lubrication as standard
Case hardened bearing pins for wear and elongation resistance
EPX Easy Pin extraction feature for quick and simple installation.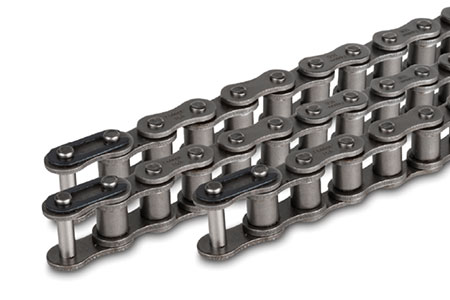 Request more info on Fenner products:
Contact
Get in Touch
For all general enquiries use the Enquire Online form - we'll connect you with the best partner supplier for your query. Alternatively, look up your local supplier.
Got a Technical Question?
For enquiries of a technical nature please complete the form below. We will redirect your query through to a technical specialist who will be happy to help.
Share Your Thoughts?
In order to deliver the best quality products and supply, we encourage customers to submit feedback on their experiences so we can resolve any issues and concerns.